Every house has a cleaning battle no one wants to talk about, but the truth is most households share the same issues. Bathroom mould is among them. If you have seen black stuff on your bathroom walls, this could be mould – and you surely want to know how to get rid of it.
Why Does Mould Grow in The Bathroom?
Before you learn how to remove mould, let's talk about what it is first. Mould is a type of fungus that reproduces by releasing spores into the air. These microscopic spores, unfortunately, are all around us. However, they need enough moisture for them to stay and multiply. So, does this mean that your warm, cosy Perth home is safe? The answer is no. Warmth contributes to the reproduction and growth speed of the fungus. When spores find a moist surface in a warm room, mould will appear in about48 hours.
For mould to thrive, it needs to eat. Any organic matter in your bathroom will help it spread rapidly. And by organic matter, we mean anything that has carbon atoms, including dust, which is its favourite food.
And here is a not-so-fun fact: About 70% to 80% of the dust in your home is made up of the skin you shed daily. Yikes!
Types of Mould
Mould can grow anywhere in your home, but the most common types of mould found in bathrooms are:
Cladosporium
Penicillium
Aspergillus
Stachybotrys
The mould types mentioned are generally green and dark brown (except Penicillium that has a yellowish, greenish, or bluish tint) mixed with Stachybotrys, which you may know as the black mould. Stachybotrys is considered the most dangerous type.
It's not easy to distinguish mould types from one another. Regardless of the ones you have, you certainly want to eliminate them from your bathroom.
9 Tips on How to Prevent Mould in the Bathroom
Now, let us talk about how to prevent mould. There are several ways, and we're sharing nine of the most effective methods:
1. Eliminate Moisture
The most important step you should focus on is removing moisture in the bathroom. That may seem impossible to do, but it is not that difficult. After washing, bathing, or showering, wipe all surfaces to make sure they're dry when you leave. You can leave the bathroom door and windows open for a few minutes to allow fresh air to circulate. If you don't like this idea, install an exhaust fan, which will make your life so much easier.
We recommend switching your exhaust fan for about 30 minutes right after you shower. If you do not have an exhaust or shower fan, you can use a regular fan and let it run for about 30 minutes to an hour.

2. Increase Temperature
How does heating prevent mould? Although we have mentioned that mould loves warm rooms, high temperatures can help solve your mould problem. It's a good practice to stop a room from getting too cool. Ideally, you need to increase your bathroom temperature to about 23 degrees Celsius. In the winter, you should aim to keep all rooms above 14 degrees Celsius.
3. Clean Your Bathroom
You already know what mould wants to eat. Cleaning your bathroom will remove its food source. You can use cleaning agents that you normally use, such as bleach. Pay attention to niches and tight corners where mould likes to hide. If you have bathroom tiles, include the grout lines when cleaning since mould spores typically start accumulating there.
4. Hang Items
Never leave your wash rag, loofah, or sponge on any surface. This will only cause them to trap water, keeping them wet for longer. Instead, hang your shower items so they quickly dry.
5. Put Shower Products on a Rack
Just like with your sponges and loofahs, water can get trapped behind and under your bottles of shampoo and body washes. Don't leave them on a solid surface. Use a storage rack to remove water and moisture. Do the same with your soap, which should be on a soap dish for easy draining.

6. Fix Leaks
Taps and showerheads that continue to drip even when not in use may be something you would put aside for some time. While they may not be a big of an issue, leaks can increase the moisture level in your bathroom. Don't wait for the problem to get worse. Aside from these fixtures, make sure that you check under your bathroom sinks, too, to find leaks. Other places where leaks could occur include the bathroom windows and pipes. Mould can accumulate in these areas due to moisture. Fixing leaks is also one way to prevent mould on the ceiling.
7. Repair Drains
Any damp areas in the bathroom will be an inviting place for mould to grow and multiply. Inspect the drains and ensure that they are draining effectively. If you have clogged drains, please read our blog post on how to fix this issue here.
8. Use Anti-Mould Paint
If you're in the process of fixing or renovating your bathroom, now is a good time to repaint the space with mould-resistant paint. These paint products have antimicrobial additives that easily repel mould while keeping your bathroom attractive.
9. Pay Attention to Shower Curtains
Your shower curtains and liners get wet every time you shower. Wash them once every week or two weeks to make sure they are clean. This also stops mould from living on these items. Do the same thing with your bathroom rugs. Towels, on the other hand, should be washed every two to three days.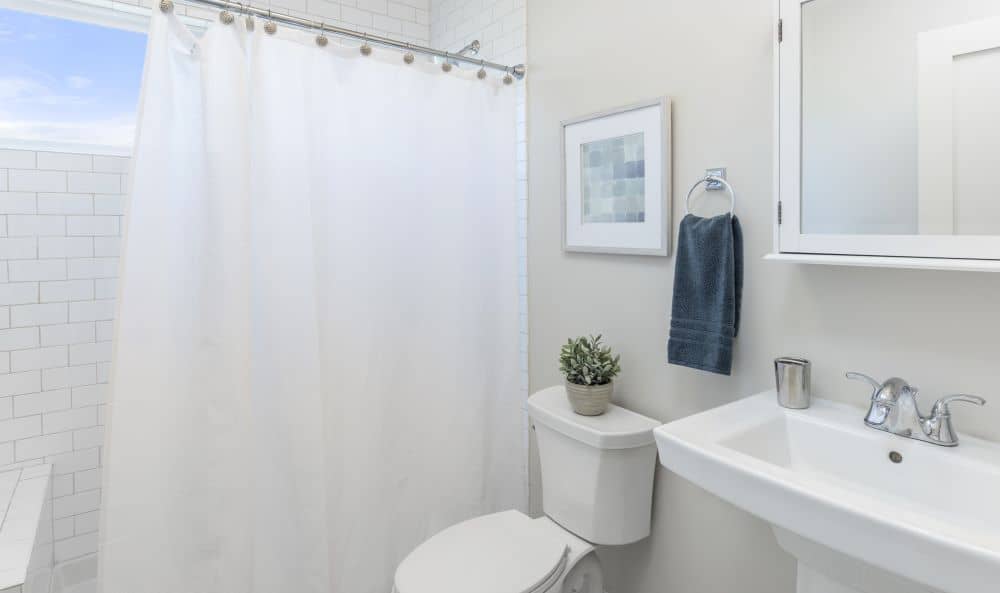 Preventing mould in your bathroom does not have to be a challenge. By keeping your bathroom clean and free from leaks, you can easily combat mould. Sometimes, though, leaks can be sneaky. Let's help you find and fix them right away. Call Perth Local Plumbing & Gas to remove leaks and repair drains today.