Expert Local
Blocked Drain Plumbers
Blocked drains are a common occurrence for Perth homeowners. You could be dealing with a blocked kitchen sink, toilets, or gutters.
These blockages can happen to your gardens, too, causing them to remain flooded for some time. It's not just problematic but also unhygienic. Call us today to organise a reliable blocked drain plumber to visit you.
How do you know if you need a blocked drain repair? Look for the following signs:
Bad smell
Gurgling noises when emptying the drain
Reduced water pressure
Slow-emptying drains
Changes in toilet water level (either higher or lower)
Having blockages can disrupt your day-to-day activities and can be costly, as well. However, you should not attempt to fix the problem on your own just so that you can save some money. Leave it to the real experts in congested drains. Our blocked drain plumbers at Perth Local Plumbing & Gas are your friendly specialists in plumbing, including services for different types and causes of blockages.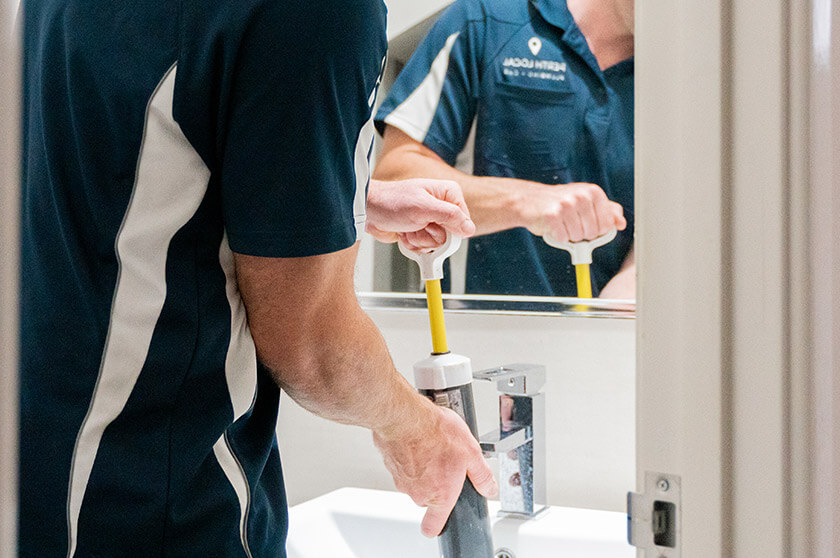 Perth Local Plumbing & Gas is all about you – our customers. We aim to provide long-term solutions that will help you save time and money. Contact us to speak to a friendly blocked drain plumber from Perth Local Plumbing & Gas to get your drainage system working again.
How
We Can Help
After calling one of our local plumbers and scheduling the service, we make sure to arrive at your doorstep on time and get to work right away.
Our solution is tailored to the blockage issue you're facing. For example, a blocked toilet drain may have a different approach from a clogged sink. But generally, we follow these steps:
01 Assess Problem
We source and locate the problem to know why you are experiencing the blockage. Before fixing anything, we diagnose the situation first to know the precise root of the problem. One of our drain inspection methods involves the use of CCTV drain cameras.
02 Clear Problem
We now clear the blockage using the most suitable method based on the cause. Usually, a drain-jetter is useful in breaking and blasting out the obstruction with high-pressure water. If root growth is the reason for the blockage, we may use a safe application to inhibit regrowth.
03 Repair
If there are any damages due to the drainage issue, we can repair them for you. Some common causes include: Hair build-up, grease accumulation, pipe breakage, flushed down toiletries, debris in the drainpipe, and more.
Our ways on how to clear a blocked drain have been tried and tested for years. If you need specialist drain unblocking in Perth, don't hesitate to call us.
Blocked Drain Plumbers
You Can Trust
Is your drain still having issues after hiring a plumber? Sometimes, a blocked drain repair service is the only solution. Simple digging and replacement can have your pipes and drains efficiently working again. We work with Perth residents to unblock their drains by repairing the damaged pipework.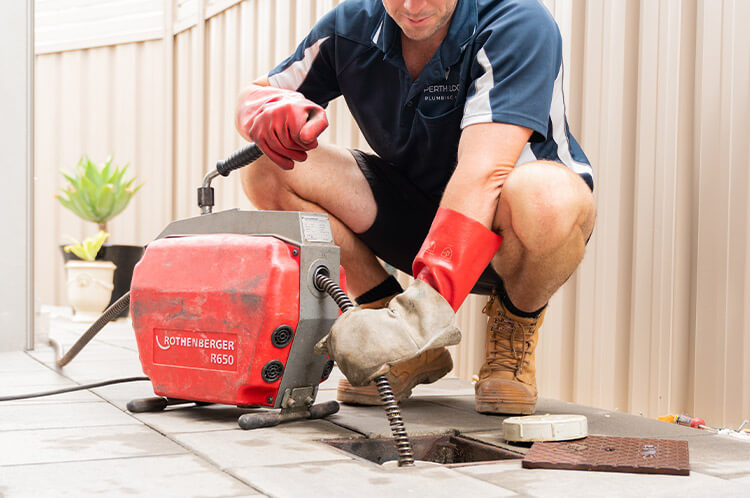 Our qualified team will first assess the problem. Then, we will offer you an effective yet affordable solution. All our drain repair services are performed at the least possible inconvenience to you from simple clogging to crushed pipes. Unlike other Perth plumbers, we make sure our repair service benefits you for the long term and not just temporarily.
Perth Local Plumbing & Gas provides a complete remedy, starting from the diagnosis to the repair process. We can also do maintenance work for your plumbing system, so you never experience clogged drains ever again!
Trust our certified plumbing experts for quick relief from your blocked drainage headache.
Why
Choose us
Do your drains smell horrible? Does it take an unusually long time for your sink, bath, or shower to drain? If you know the signs of drain blockage, it's time to call us. We're here to help make sure that those blocked drains are solved before they become a more significant issue.
At Perth Local Plumbing & Gas, our number 1 priority is to provide you with the best customer service possible. We work hard and pay close attention to detail when diagnosing, unclogging, and repairing your drainage system.
Using the latest technology, our years of experience in plumbing, and our dedication to customers, we can resolve your plumbing problem in no time.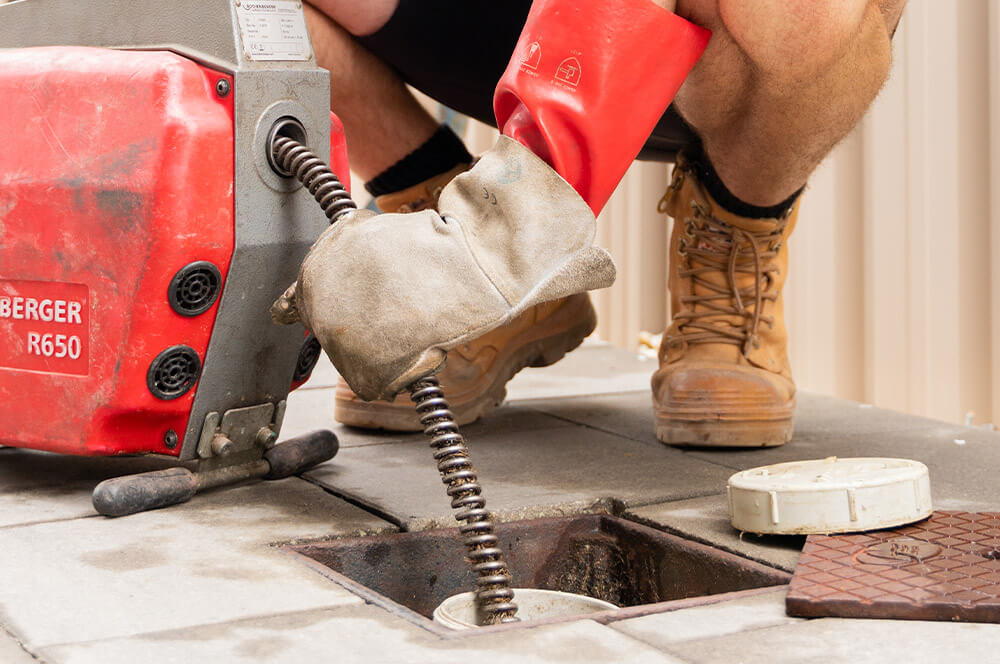 What are some common causes of a blocked drain?
Food waste, particularly grease and fat, can easily cause blocked drains. Other common causes of blockage include hair, twigs, and leaves. Mineral build-up is a big issue, as well. Minerals dissolved in water can cause insoluble materials that can be difficult to get rid of.
Other foreign objects can also block the drain, although they may not completely do so, especially smaller ones. However, a collection of materials over time will clog up the drain, which will eventually stop water from flowing freely, amongst other issues. Some of these foreign objects include nappies, sanitary items, wipes, and even soaps.
Please read our blog post on blocked drains to get more information.
How can I prevent a blocked drain?
Regular maintenance of your drainage system is the best way to avoid becoming a victim. It helps minimize the risk and also ensures there are no issues that are about to crop up. While you can perform certain checks to reduce clogged drains, you should not attempt to DIY-fix the problem.
You could end up making it worse, so you should always contact a team of specialist plumbers for repair and maintenance.
What are the signs that my drain is blocked?
Know the signs to prevent further damage. Some of the things to watch out for are:
Your sink, bath, or shower is now draining slower than usual.
The drains no longer work.
Often, the drains rise whenever you flush or run the tap.
You hear unusual noises whenever you use the sink or flush, usually because of the blocked air inside the pipe.
The drains started to have an overwhelming smell.
The good news about drains is that there are signs that tell you there is a problem. Be sure to have a professional check the drains before they become a bigger and more expensive issue.
How much does it cost to unblock drains in Perth?
The cost always depends on the severity of the issue. We often evaluate the situation based on:
The overall state of the drains
Whether it is fixable or not
Whether it is a minor or major job
Basic blockages typically cost anywhere from $90 to $200. If there is a need for drain machines, a plumber's snake, or another tool, you may be charged anywhere from $150 to $250.
You can contact Perth Local Plumbing and Gas first to get a quote. Please note that this quote is not the final price. If you want a more accurate calculation of the cost, we can provide an expert assessment in person.
Why do my drains smell?
If your drains have a foul odour, it is usually a sign that the drains are blocked. Observe your tap, shower, or appliance like a dishwasher. Does the problem get worse whenever you run the tap? If so, you need to have a professional plumber in your house right away.
Other causes of that noxious smell are bacteria and gunk. As these things build up, they will continue emitting that smell, which will only grow stronger each day. The longer you delay the inspection, the worse it will get.
Why is it a bad idea to fix a clogged drain by myself?
While you will surely save more if you try to unclog drains on your own, it is not recommended for you to do so. Leaving it alone for some time causes issues. But it gets worse if you repair it by yourself, which will only lead to additional consequences. You can damage your pipes, making matters worse.
Many homeowners know the cause of the clogging. They then turn to Google or ask a friend to determine how to fix the issue. For example, they use acids to remove gunk build-up. Using the wrong acid will quickly dissolve the muck and dirt but will also damage the pipes.
What tools do plumbers use to clear blocked drains?
CCTV cameras are the most commonly used tool to help plumbers see the reason for the blockage. High-resolution cameras allow plumbers to diagnose the issue. Chemical treatments will be used depending on the cause. For instance, root build-up can lead to pipe blockages, which an appropriate substance can easily eradicate.
Another popular tool is an electric eel, which is a continuous cable that resembles an eel. It effectively removes blockages in stormwater pipes and sewer.