Instant
Hot Water
The best hot water system varies from one Perth household to another. What works for you may not work for another family.
That's why it is essential to have experts who can assess your needs. Generally, the system to choose will depend on your budget, family size, and water consumption habits.
Let's quickly compare your options:
Tank Systems
Include hot water tanks that use electricity, gas, solar, and heat pumps.
Tankless Systems
Don't have a storage tank. An example is an instant gas hot water system, which uses gas to heat water instantly when needed.
A big debate is between a gas and electric instant hot water system. Electric systems are generally more affordable upfront. However, running them can be expensive over time. Gas-powered systems are the opposite, where the upfront cost is higher, but operation costs are much cheaper.
Apart from the power source, you should also consider whether you need a tank or tankless system. The size and efficiency of the system matter, too. If you cannot decide, we'll help you make the right choice. Perth Local Plumbing & Gas can offer suggestions that best fit your requirements.
We provide hot water service for homes in Perth and the surrounding areas. Our team can install and repair your hot water system, so you never have to wake up and have cold showers in the morning. Contact us today to get more information.
Professional
Installation
No matter what hot water unit you need, you can count on Perth Local Plumbing & Gas. We are highly experienced in installing different types of hot water units, including gas-powered tanks and continuous systems (or tankless). If you prefer an electric hot water system, we can help, as well.
Ideally, a new hot water system can last for a long time. With proper maintenance, it can remain functional for about a decade. But before that, it all starts with the installation process. A hot water system installation should be installed by professional and licenced plumbers only. Several reports in the past years showed that faulty systems were due to improper installation.
Don't risk it, especially with the intention of saving money. Instead of turning it into a DIY task, leave the hot water system installation to the real expert: Perth Local Plumbing & Gas.
We have qualified personnel that undergo training regularly. Our team is well aware of any plumbing patterns and strict Australian regulations. Contact us for your installation needs, whether you need a new system, or you're planning to upgrade.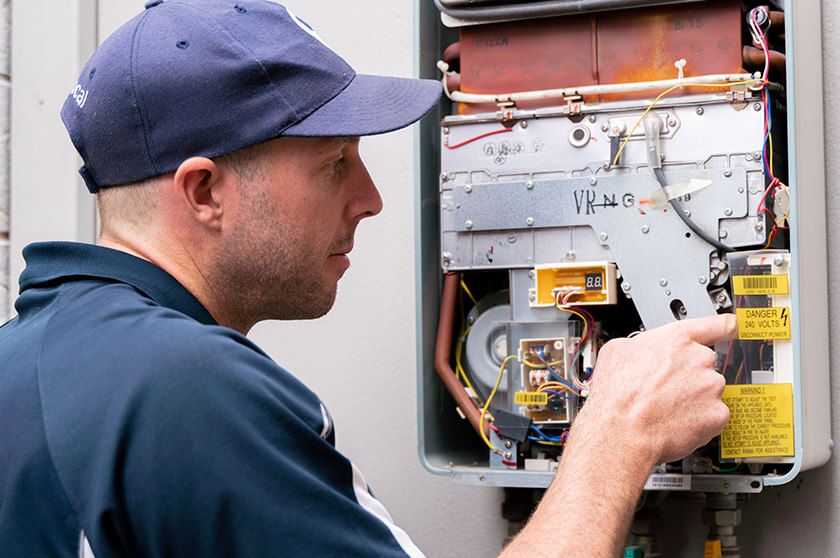 Perth Local
Repair & Service
There are several issues that you can face with your existing system. Water may not come out of the tap, or if it does, it's colder than it should be. Have you noticed that your hot water system is leaking? Perhaps the water pressure seems like there is no pressure at all.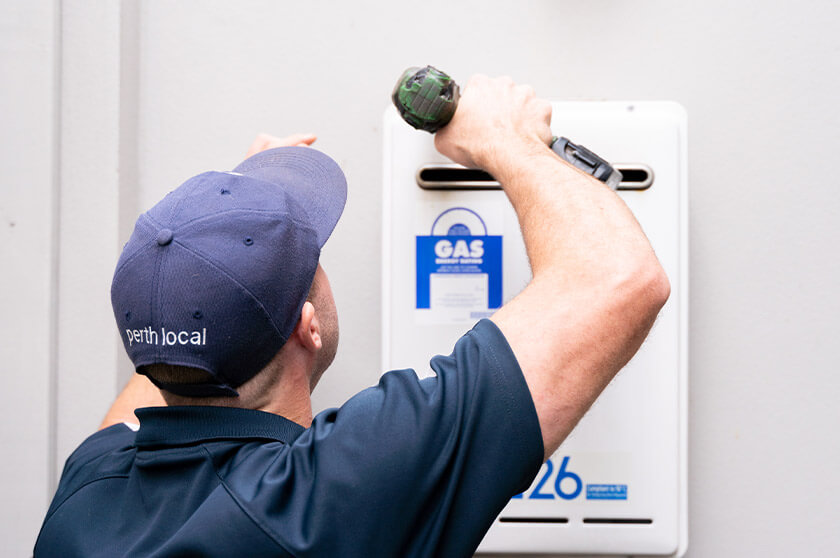 Only qualified professionals understand the intricate details in repairing and servicing these systems. If you have an instant hot water system, for example, it can be difficult to address specific issues on your own.
Here at Perth Local Plumbing & Gas, we can repair your hot water system efficiently. Our plumbers have a diverse skill set, enabling us to fix the faulty system. Whether you have gas or electric, even solar and heat pumps, we are the pros to turn to.
When you need to get your hot water unit up and running again, we're ready. Our team will be there with the necessary tools and supplies, so the job is done without delay.
Talk to us, and we'll help you fix your heat pump or any other hot water unit in your Perth home or business.
Get In
Contact Today!
Contact Perth Local Plumbing & Gas to enquire about a hot water system installation we supply or get an instant quote for our repair service.
Why
Choose us
Perth Local Plumbing & Gas is made up of professional and licenced plumbers. We have years of experience, regular training, and information that help us provide the best hot water service in Perth.
Our certified plumbers can install and repair hot water units of any kind, including gas and electric, as well as instant hot water systems. We do the homework for you, particularly when determining the best system that meets your entire household's needs. We are committed to providing:
Upfront, honest, and affordable pricing
Workmanship guarantee
Licenced and dedicated plumbers and gas fitters
24/7 emergency assistance
If you want high-quality service and excellent customer support, contact us, and we'll have a licenced plumber to your property on the agreed schedule.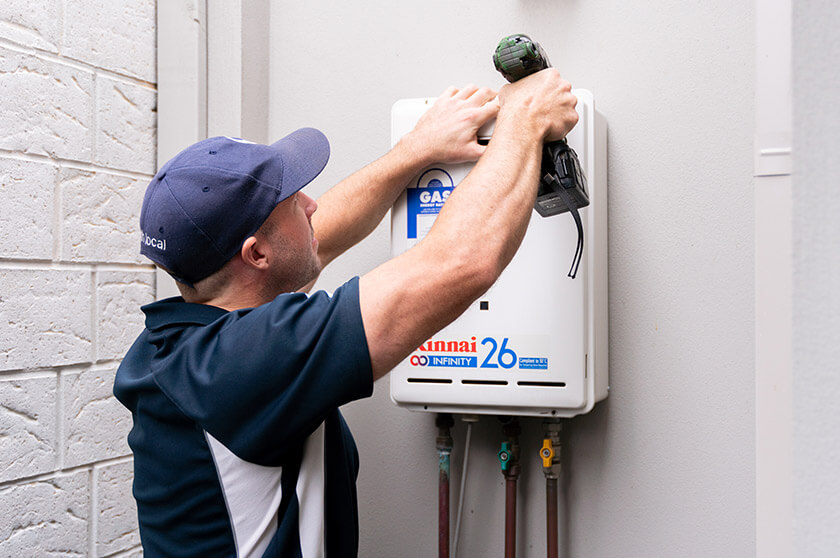 How often should I service my hot water system?
It typically depends on the hot water unit you have. For example, continuous flow units should be serviced once a year, just like heat pump powered systems.
Meanwhile, if you have a solar unit, you only have to call a plumber for a regular maintenance check every five years. It's the same with electric and gas storage. Still, owners are required to lift the Pressure and Temperature Relief Valve lever for about 10 seconds or so every six months. Refer to your owner's manual for the recommendation.
When is buying a new hot water unit better than fixing your current one?
Hot water units typically have a lifespan of 10 years. Thanks to technological advancements, though, many systems can last more than a decade.
If your current unit malfunctions but is just a few years old, you may want to call a licenced plumber for repair. Read the product warranty, as well. Gas continuous flow units, for instance, can have a 10 to 12-year warranty, meaning they are expected to outlast 10 years.
Why shouldn't you try to fix it yourself?
Hot water units are complex appliances. Fixing it on your own is dangerous and can automatically void the warranty. Trying to repair it without proper knowledge and experience just to save money is not worth the risk.
Always call a plumbing professional when you have a problem with your hot water unit. Plumbers can quickly diagnose the issue. With their training, they know how to fix these problems, such as creaking, rumbling, or popping sounds from the unit. Leaks and murky water with a rusty tinge require attention from a plumber, as well.
What are the types of hot water systems?
There are two main types. The first one is a storage system, where the heated water is stored in an insulated tank. You can access hot water instantly since it is ready for use. Most gas, electricity, solar, and heat pump water heaters are of the storage system type.
The second type is a continuous system, which simply heats water whenever you require it. That's why continuous systems are also known as tankless water heating units. They use LPG, natural gas, or electricity.
Which one is the best for my household?
To know which system suits your needs, you should determine your budget, household size, and the hot water requirements of each member. You may also want to think about the environmental impact of the system. Tank systems, for example, can carry from 25 litres to 400 litres of hot water. They can be powered by gas, electricity, and solar.
Tank systems allow you to store water that you can use for later. However, many environmental advocates believe that tankless systems are better. Since those systems do not store water, they do not waste energy to maintain water temperature. Tankless systems have higher purchase and installation costs but are deemed cheaper to operate.
How much should I pay for one?
The type of water heater and heating method, as well as the size, determine the price of the unit. Solar water heaters are generally the most expensive. A roof-mounted solar to help boost your electric power can cost from $3,600 to $4,400. It becomes even costlier when used as a gas boost, going anywhere from $4,900 to $7,000 or more.
On the other hand, the most affordable is an electric hot water system with a tank, which is around $459 for a 25-litre capacity tank. For a higher capacity, you will probably pay approximately $1,800 for a 400-litre tank. Instant or continuous electric units are more expensive, starting at $660 per unit but usually do not cost more than $1,300.
What can I do to extend the life of my hot water system?
The best way to make sure your water heater lives to its fullest is to have it serviced regularly. Some require less maintenance than others, but you should still have them checked once a year. Also, don't hire unlicensed people just to save money. You can end up with a damaged unit and an invalid warranty.
It is also recommended to drain and flush the unit once a year, which will remove sediment build-up in the tank. You can DIY the basic inspection tasks, such as checking the temperature settings, the pressure release valve, and tank or pipe insulation. You should also have the anode rod replaced once every three years.