Local Perth
Gas Fitters
When it comes to your gas fitting requirements, you should always choose a licensed professional. You've heard of plumbers working as gas fitters. But before you hire them, make sure that they are qualified.
Working with us, you can be sure that you're working with certified gas fitters. That's why Perth homeowners and business owners choose our services.
Do you smell something but do not know why and where it is coming from? Don't panic! Leaks are common, but should never be ignored.
Don't delay. Contact us right away so we can help you deal with the matter. Our qualified gas fitters can fix the problem in no time.
Never attempt to DIY your problem. Take the guesswork out of the issue by calling us to hire qualified and insured gas plumbers.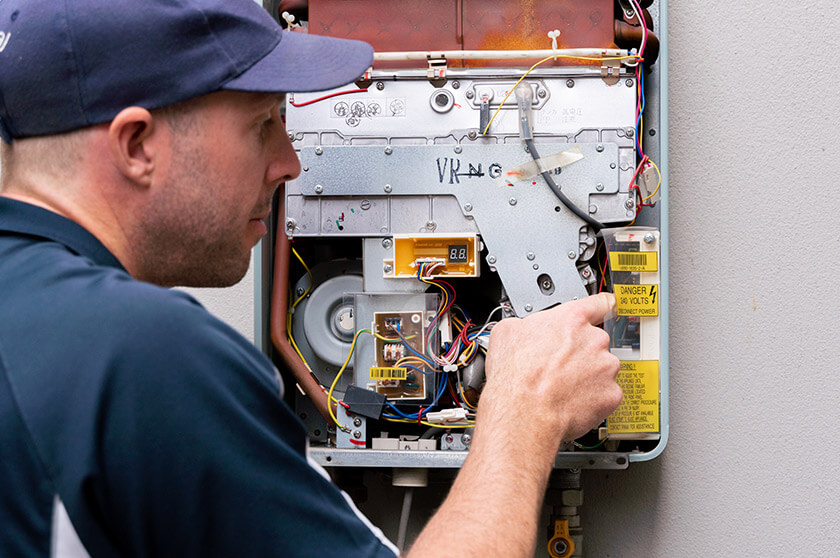 Gas fitters are typically professional plumbers, but it doesn't automatically mean a plumber is a gas fitter. We're qualified professionals in both areas.
How
We Can Help
It's common knowledge that gas is dangerous. That's why it's illegal to perform any gas fitting jobs without a licence in Western Australia.
Only a qualified professional knows what to do to ensure gas-related issues are fixed. If you suspect there's a leak, contact us. We're committed to providing quality gas fitting services for you, your family, or business.
We provide the following:
Leak detection, diagnosis, and repair
Pipe installation
Hot water installation and servicing
Heater installation, repair, and servicing
Cooktop and oven connections or installations
BBQs fitting requirements
Safety checks
We have a responsive team that you can book ahead of time. If you need emergency plumbing and gas service, you can contact us anytime.
Call us to get a free, no-obligation quote today.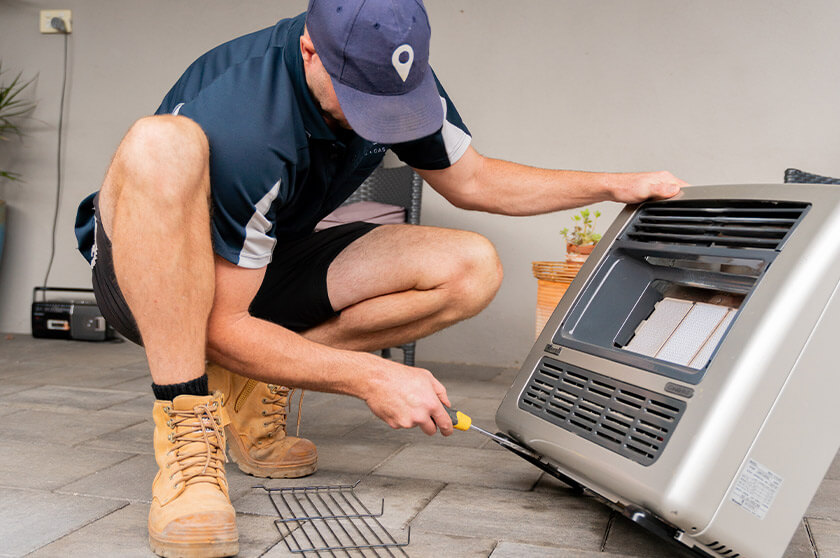 We Only Use Quality
Parts & Products
As electricity prices continue to increase in Australia, homes and businesses are making the switch to gas. It's more efficient, affordable, and eco-friendly compared to electricity. Choosing gas will help lower your energy consumption. Since it is good for the environment, you can contribute to reducing greenhouse gas emissions.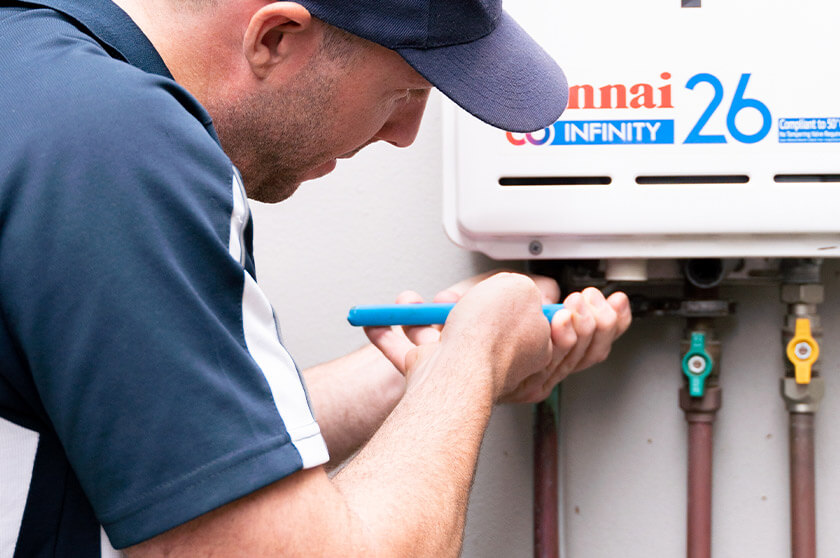 Here at Perth Local Plumbing & Gas, our gas fitters are highly skilled and experienced. We understand how to install, fix, and fabricate systems. Apart from providing quality gas fitting services, we also offer parts and products for homes and businesses throughout Perth.
We offer parts and products for gas hot water heating solutions. We have a range of hot water heaters from the top manufacturers in the world, such as Bosch, Dux, and Rheem.
As industry professionals, we can also give expert advice to help you select a suitable and economical product for your office or home. Available choices include continuous flow, storage tanks, and tankless options.
Our goal at Perth Local Plumbing & Gas is to provide our customers with useful recommendations for parts, materials, and products. If you do not know which solution or appliance suits your needs, our experts can help.
Get In
Contact Today!
Need an expert gas fitter? Choose a company with years of experience.
Why
Choose us
When you hire our team, you can be sure that only fully qualified gas fitters will work with you. Our years of experience have taught us how to provide professional gas fitting services for homes and businesses.
We follow standard operating protocols to ensure that our results are correct, suitable, and safe. We have a dedicated staff, including certified and insured gas fitters.
As a local company, we have a thorough perception of your needs. We're confident that we will meet your expectations because we always deliver quality services from beginning to end, all at affordable prices.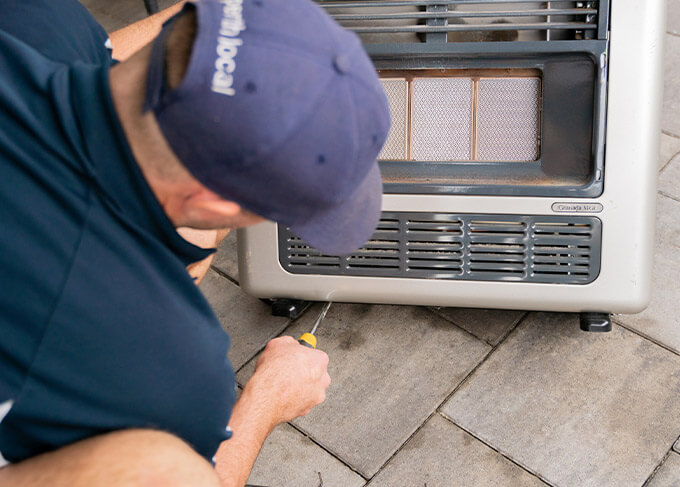 What Can a Gas Fitter Do for You?
A gas fitter is also known as a gas plumber and is responsible for all kinds of processes or work connected to systems or appliances. It is however, without a doubt, is a health hazard, which is why it should not be handled by a non-professional. A gas fitter can perform the following tasks for you:
Install gas pipes
Test or check gas appliances
Connect your home to a gas line
Understand drawings and specifications of gas installation plans
Perform gas system maintenance
Educate the customers on how to take care of their gas-run system
Hire a gas plumber if you need to have gas installed, repaired, replaced, removed, demolished, or serviced. You can also call a gas fitter to have a heating system installed in your home or office.
What is the Difference Between a Gas Fitter and a Plumber?
There seems to be confusion with the terms "gas fitter" and "plumber." It should be noted that these are not the same, but a gas fitter is called specifically a gas plumber. A plumber, on the other hand, is different from a gas plumber. However, it is true that many plumbers double up as a gas fitter. However, it is required that plumbers carry additional qualifications that enable them to perform any gas fitting service.
Do You Need to Hire a Licenced Gas Fitter?
Because it can be dangerous, you need someone who understands it fully. You should never hire a person because they claim to know about gas systems and how to install them. Also, unqualified gas fitters tend to charge lower than qualified ones, making them more appealing to some homeowners.
However, you should only pick a well-trained fitter. Pick a licenced and insured gas plumber to help you if ever an unfortunate event takes place. Insurance covers the gas fitter's medical bills and may even provide compensation for you if your property gets damaged.
What are the Benefits of Natural Gas?
This offers excellent benefits as a natural fuel source. It has lower carbon emissions compared to fossil fuels. Although natural gas systems cost more upfront, they provide more savings in the long run.
Natural gas does not have any unpleasant smells. It's colourless, as well. It is mainly composed of methane, which is a natural by-product of decayed animals and vegetation. Methane is not toxic and does not contribute to cancer risks in humans, unlike fossil fuel.
How is Natural Gas Connected?
Before you can have natural gas in your home or commercial building, you should first confirm if it is available in your area. You can look it up online or contact Perth Local Plumbing and Gas to know if we can service your property.
The next step is to request the connection from us. Simply contact us and schedule the initial setup of your appliances. Next, search for the gas energy plan that is right for your needs and budget. You will have a meter that regulates the flow of gas and will tell you how much you are using. For more information, please talk to our specialists.
How Much Does Gas Fitting Cost in Perth?
Gas installation is not costly, but the final price will depend on the number of outlets you want, the pipework involved, walls in your home, and ease of access. For example, you will pay more if you install five outlets under the floorboards with complex pipework and a brick wall.
Every installation is different because houses are often unique. Hourly rates also vary, but you could get a quote anywhere from $1,200 to $5,000. Gas fitters usually charge from $80 to $120 per hour.
What Should Be Done with Gas Leaks?
Ignoring a gas leak can cause carbon monoxide poisoning. And even if no one gets poisoned, it increases the chance of fire. Make sure you contact Perth Local Plumbing and Gas. Our gas fitter will take care of the problem right away before it gets worse.
It pays to be vigilant, so always be on the lookout for the smell of gas. Some sensitive to the odour can feel dizzy and nauseous, while others experience shortness of breath. Whatever your symptom may be, you should immediately go outside the house and be sure to call us so we can repair the problem. However, if it is a major leak where your life or home may be in danger, dial 000 promptly.