Leaky, broken, and burst pipes are plumbing issues that you should leave to professionals. The same can be said about problems with your water heater and water pressure. Even though you are quite the handyman, some repairs are best left alone – at least until your trusted plumbing team arrives.
However, some plumbing problems and maintenance jobs are easy enough for you to handle on your own. Minor repairs only require a little bit of DIY and, of course, the right plumbing tools.
Whether you're a novice or have some experience, your toolbox should contain essential plumbing tools as a starting point for simple installation, repair, and other everyday tasks.
Common Plumbing Problems You Can Fix
Dripping tap sounds are frustrating, most likely why they're linked with insanity. After all, the constant, rhythmic noise is stuck in your head. First, you need to find the water leak to diagnose the problem. An old O-ring could be the cause, or perhaps it's a worn cartridge or aerator. Both are easy to replace with the right plumbing tools.
A partially clogged toilet is another plumbing problem you can try fixing. It usually takes several attempts with your plunger to get rid of the blockage.
Low water pressure can be a huge issue, but it can also be as simple as the shut off valve in the "off" position. Check under the sink and make sure it is "on."
7 Plumbing Must-Have Tools
Do you want to do plumbing tune-ups on your own? Here are 7 tools you should have in your plumbing tool kit:
1. Plunger
Clogging is inevitable – even if you have correctly installed plumbing. That is why you should always have a plunger in your home for this type of emergency. Plungers offer the easiest and fastest way to get rid of simple toilet blockages. Without one, you have to wait it out to see if the obstruction will leave on its own. Most of the time, you will not be that lucky.
Even though there are substitutes like a toilet brush, baking soda and vinegar mixture, or wire hanger, dislodging the clog is never as easy as using the plunger. And that's why it is one of the top plumbing must-have tools.
2. Pipe Wrench
Pipe wrenches are among the types of wrenches that you should have in your plumbing tool kit. This wrench is used for turning threaded pipe and fittings for tightening or loosening. As pros, we know that a pipe wrench is necessary for many of our plumbing tasks. However, be careful when using this tool. It can leave teeth marks on fragile and smaller pipes. Don't use it on shiny fixtures, especially copper water pipes or anything similar.
Make sure that you use a pipe wrench on galvanised steel and iron pipes. This wrench is designed for heavy-duty fixtures, particularly those with rough finishes.
3. Pliers
You do not have to be a master handyman to know that pliers are an indispensable tool. There's no need for all types of pliers in your plumbing tool kit, but make sure you include slip joint pliers and tongue and groove pliers.
Slip joint pliers are just like your regular pliers, except they have extended sections that allow you to adjust them more. These pliers also have angled jaws so you can grip plumbing parts of various sizes.
Tongue and groove pliers are for turning and gripping nuts and bolts. They are useful for holding and clamping irregularly shaped parts or objects securely.

4. Auger
Also called a snake or a plumbing auger, this plumbing tool helps you remove objects that cause pipe clogging. There are different auger types, and it's easy to distinguish them, thanks to their names. For example, a toilet auger is for clearing clogs in toilets, while a sink auger is for that particular plumbing fixture.
Augers have special purposes, so you cannot use a toilet auger for your sink. Consequently, it's not wise to use a sink auger for standard drains. While you do not need all auger types in your plumbing tool kit, you should only use the right tool for the purpose they are designed for.
5. Adjustable Wrench
Plumbing tasks come in different shapes and sizes, which is why an adjustable wrench is useful for many plumbing tasks. Also known as an adjustable crescent or spanner, this wrench has a moveable jaw. It has a similar look to an open-end wrench with its U-shaped profile, but the opening width is adjustable. You can use this wrench for various fastener sizes, giving you the flexibility you need with just one tool.
Grab your adjustable wrench when you need to fix the sink, which has a thick hex bolt. You can also use this tool for your bath tap, which usually has a smaller bolt size.
6. Plumber's Putty
When your plumbing task requires you to make a secure and watertight seal, make sure that you have a plumber's putty. Also known as a jointing compound, it is helpful for several jobs, including upgrading or installing new taps. Many handypersons agree that this tool is a must-have for completing repairs.
If you need to do any DIY replacements, a dab of this malleable, clay-like substance will surely help fill in the space where water can enter. It's every homeowner's friend when working on sink drains to prevent leaks. Keep the parts intact and ensure that water will not break the seal with this tool.
7. Thread Tape
Commonly known as the plumber's tape, the thread tape is used in plumbing for most threaded connections, which do not have a rubber seal. Use this thin white tape to wrap around the threads on fittings and pipes before twisting the parts together.
The tape is also a valuable item in your plumbing tool kit when you need to lubricate the threaded connection so that it's smoother for loosening or tightening. When it's time to disassemble the joint, you can take your plumber's tape, so pipes do not stick together.
Even though thread or plumber's tape is also called Teflon tape, it is not made with Teflon material.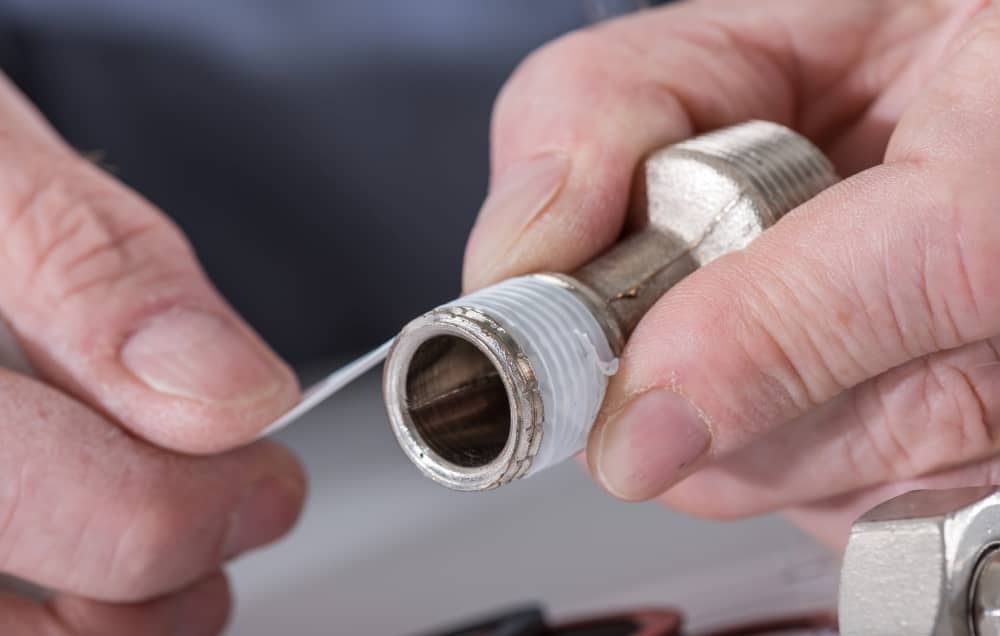 Hire a Trusted Perth Plumber
Even with your plumbing tool kit ready, nothing substitutes a licenced plumber's expert service and knowledge. Don't attempt to fix leaky pipes, which often come with complications like mould and mildew. Large toilet or drain clogs may appear to require straightforward repairs, but you could damage your plumbing system further.
If you're not into the DIY stuff, save your money on plumbing tools you won't use. Don't wait when you have a leaky tap or toilet, broken pipe, gas leak, or flooding – even if it is at 3 AM. Contact Perth Plumbing & Gas on 0411 145 567 to quickly diagnose and fix your time-sensitive plumbing issues.